It's time for another installment of the 'Sourcing High Quality Food' series. The focus of this post: animals. 
My last post , where I gave my opinion on "Should Humans Eat Animals", was originally intended to look at sourcing meat but I got sidetracked. At this point, I'm assuming that the majority of readers are consuming animals (and their byproducts) somewhat regularly, don't want to stop consuming, and feel like it can be positive for the environment and health (like me!); so let's go about it as responsibly as possible.
Until I was about 24, I didn't know where to locate animal products other than at the grocery store (I'm quite the city-boy). I was a busy guy and just thought that was how it was done. When it was available, I would sometimes get organic meat or dairy, but as a student the price tag usually scared me off. Through my roommate at the time (Sustainable Balance Editor Chris Fleming), and a few other sources, I started to learn how to source animal products differently in order to get highly-nutritious food and feel good about how I was doing it.
When it comes to sourcing high quality animal products, generally the regular grocery store is the last place you want to go. They have meat, for sure, but unless you're at a Whole Foods or an equivalent establishment, it will be factory-farmed meat in shrink-wrapped cellophane. Sometimes it's labelled "naturally raised" or some variation, but that doesn't mean much. The regulations on those labels, if any, are very new. If you are at a Whole Foods equivalent and have access to some of the good stuff, the prices are going to knock your socks off.
So, without further ado, here are the best ways I have found to source animals ethically and affordably:
1. Go Directly to a Farmer
For me, this is the best option and definitely the one I'd recommend if you're serious about eating meat. You get to meet the farmer who raises your ethical animals, you get the best price (see below), and the animal is spared the industrial treatment.  You can pick it up at the farm, or the farmer can deliver it to you. The product is usually superb as well! I've done cattle and lamb with great success, but I know others who have purchased pigs, chickens, turkeys, and goats  and they had great experiences as well.
Farmers generally offer 20-30 lbs packages as samplers, or you can go up to a half or whole animal (for big livestock), or buy chickens and turkeys in bulk. You'll need a freezer to store it all, but they're not as expensive as you might think. I have a 3.6 cubic foot Danby model that I got for just over $200. I've had it in various small dwellings in the past four years and it works great. As a rule of thumb, 30 lbs = 1 cubic foot, so I can get over 100 lbs of delicious animal in my freezer. It runs at about 140 Watts, but not all the time (only during a cooling cycle every few minutes). By examining my day-to-day electrical data from the utility company here in British Columbia (BC Hydro), I have a good estimation that my freezer costs about $4/month to keep plugged in and full of goodness.
Here are the economics of this method, and why it's so great:
At the grocery store for typical grain-fed, mass-produced ground beef, you'd usually pay about $4 per pound. Directly from a farmer, for cattle, the best price I got was $5 per pound, but I've heard of people getting beef for as low as $3 (not sure on the quality at $3/pound however, mine was fabulous at $5/pound). Let's go with $5 to be conservative.
About half of whatever you order will be ground beef, but the rest will be luscious steaks, roasts, ribs, and stewing beef. So, for only slightly more per pound, you'll get MUCH higher quality beef, and a range of more expensive cuts than just ground beef. Some of the steaks I get would go for $30 at a butcher's shop, and I get them for $6. Different animals cost different amounts, but this method is almost always worth it considering the quality (I get amazing lamb for $8.30/pound – still worth it!), and you get to feel good about what you're eating.
Want to find a farmer? Go to www.eatwild.com and search the map for your area to see which farmers want to help you out.
Here's a photo of me loving an order I received from Hooke Farms here in BC back in 2012: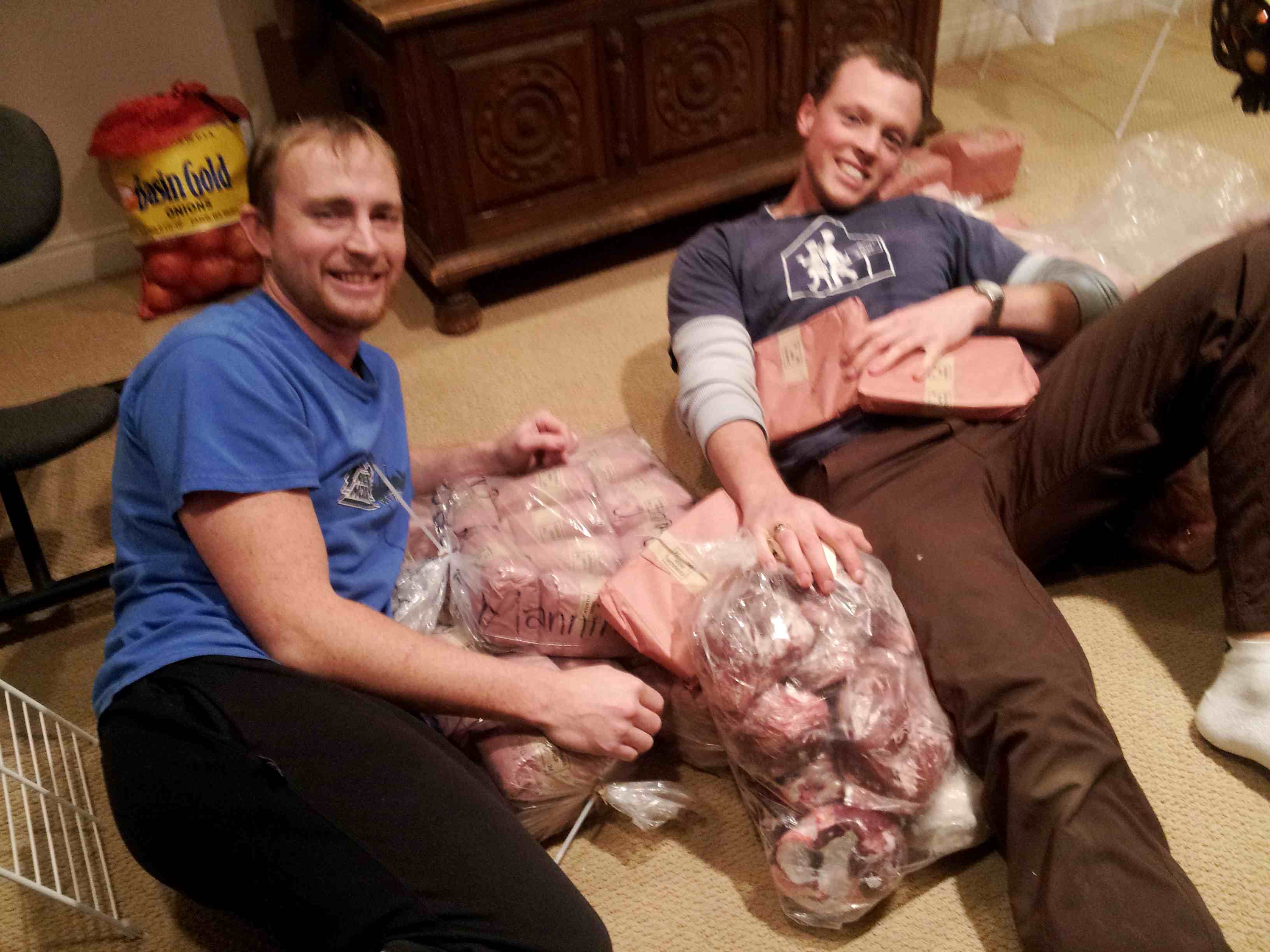 And here's a recent shot of a half-lamb order I received from Gradellen Farm on Vancouver Island: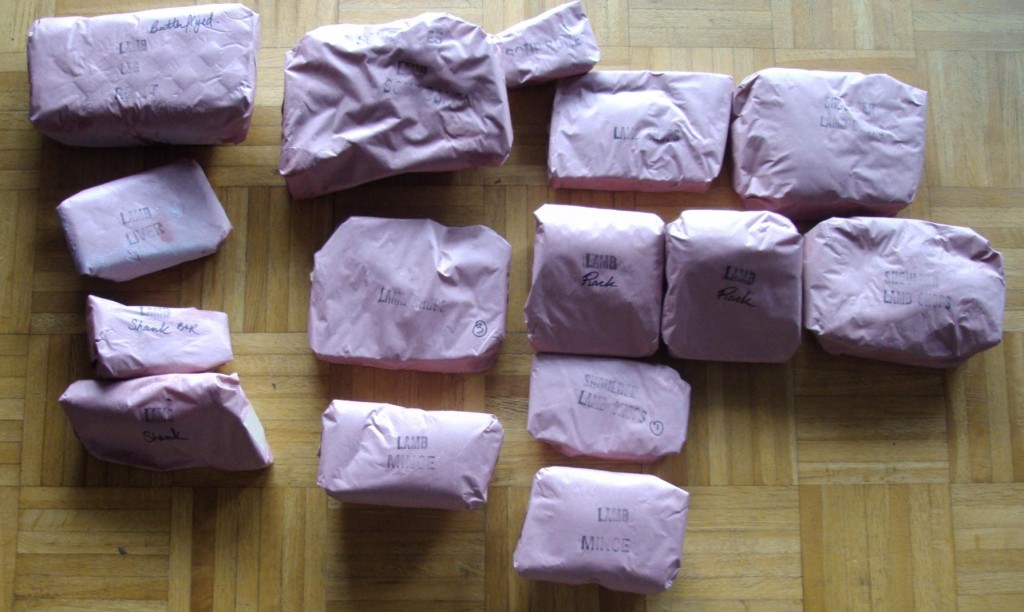 2. Farmer's Markets
Perhaps you're already going to farmer's markets to buy your produce, so you might as well pick up some animal products directly from farmers as well. At most farmers' markets I've been to there are a few farmers laying out their animal products along with the vegetable and fruit vendors. Typically there will just be images and a price list as the product will be frozen and kept in coolers, or even portable freezers. I've seen purveyors of high-quality beef, chicken, eggs, pork, duck, yak, goat, elk, and even exotic (to Canada) game meats such as wild boar, kangaroo, and crocodile. What I really like about this method is that you can ask the farmer directly how the animal was raised, and what it was fed. You can literally "shake the hand that feeds you", to steal a line from Michael Pollan.
Usually at farmers' markets there will be animal artisans that not-only sell your typical cuts, but also fancy cured meats and sausages that you can combine with cheese, olives, veggies, fruits, and nuts to create some killer platters.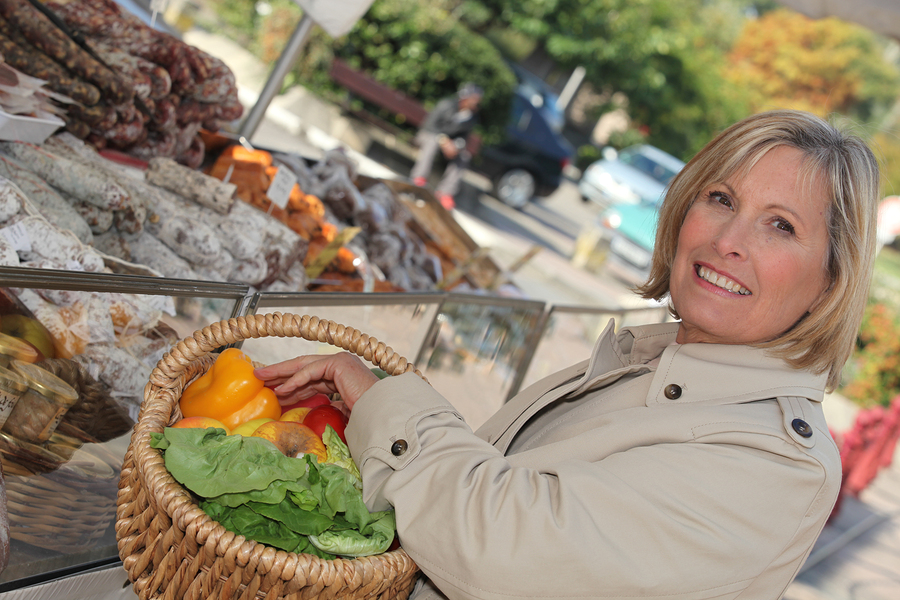 You generally won't be getting amazing prices at a farmers' market as you'll be buying individual items, but you can get amazing quality and be sure that you're getting a product that you can be proud to consume. And hey, if you really like what you purchased, then you could approach the farmer about submitting a bigger order (half cow, whole pig, several chickens, etc.), and then you're definitely saving money and forging a relationship with the farmer. It's beautiful.
Speaking of relationships:
3. Find an Awesome Butcher
Sometimes you're between direct-from-farmer orders, the farmer's market is out of season, or you just want something different and you want it quickly. In that particular circumstance, the solution is a local, ethical, and helpful butcher. As soon as I move to a new neighbourhood (which I do a fair bit), I'm instantly looking around for my new butcher. Specifically, I want a butcher who understands which farms are doing a good job, and deals in nothing else. You'll still want to talk to your butcher about the farms that he/she deals with, but some good signs are:
Grass-fed/grass-finished beef
Organic meats
Free-range poultry
Hormone/antibiotic free
Locally raised animals
Once you have found your butcher, you can make a new friend. It sounds funny to people when I tell them, but I truly enjoy forging a relationship with my butcher. Eventually they get to know you, your meat-buying patterns, and will have recommendations and new things for you to try. Plus, if you're really friendly and bring in new customers, you'll get the odd discount (don't count on it, but it happens). Although generally you'll be paying quite a bit for anything but ground meat, good butchers usually offer bulk orders or will facilitate a direct-to-farm transaction to bring your costs down.
Other tips to save money at a good butcher:
Ground meats are cheaper than whole-cuts (recipes here)
Pork and chicken are usually cheaper than beef. Pork chops are usually a good deal (and are tasty!).
Whole chickens are MUCH cheaper than boneless/skinless chicken breasts (you'll find a great recipe here)
Think about organ meats and bones. In our modern society they are generally unwanted, so they're really cheap!
Where I live near Main and Broadway in Vancouver, BC, I have two butchers that I frequent for different reasons. I used to live in North Van, so I'm a big fan of Windsor Meats in Edgemont Village, and their somewhat affiliated location on Main St in East Vancouver (known as Windsor Packing Co.). A smaller butcher shop that I have come to love is Harkness and Co. at at 666 E. Broadway, Vancouver. Here is Harkness and Co employee Chris showing off the goods: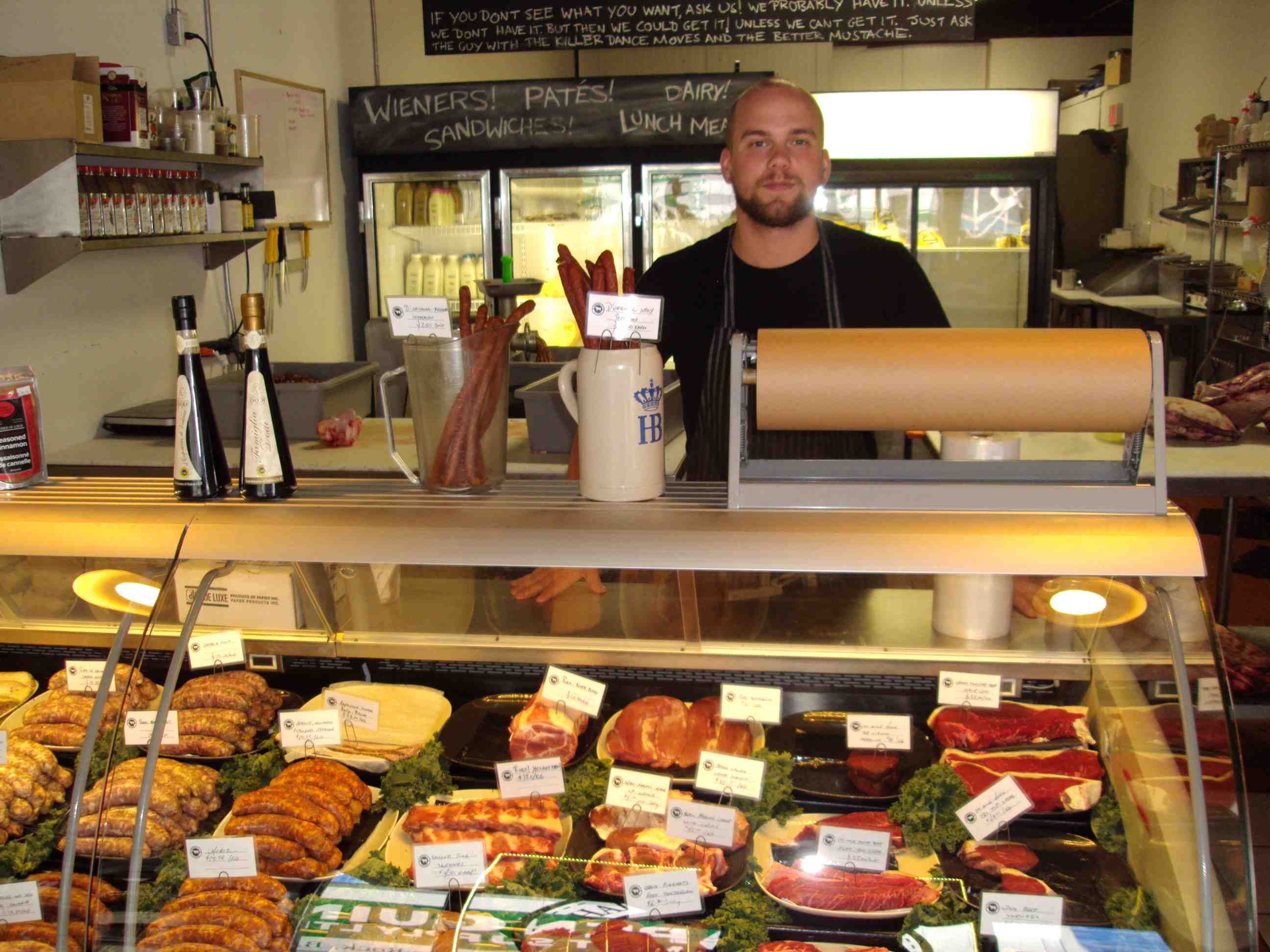 4. Specialty Health-Food Stores or Delis
This is definitely not the cheapest option, but if you have the inclination you can get some high-quality animal products from specialty health-food stores and delis. In a typical health-food store, there is often a freezer (of varying size) that has local/organic animal products to go along with their other more produce-oriented fare and health supplements.
A wonderful organic deli just opened up near my place called "Home on the Range Organics". They stock up on a broad range of local organic meats and cheeses (amongst other items), and were very proud to discuss the CLA (conjugated linoleic acid) content of their grass-fed beef products. They even have a range of prepared organic meals including the high-quality animal products I'm such a fan of. Here is Allen Ingram of Home on the Range Organics proudly displaying his ethically sourced high-quality products: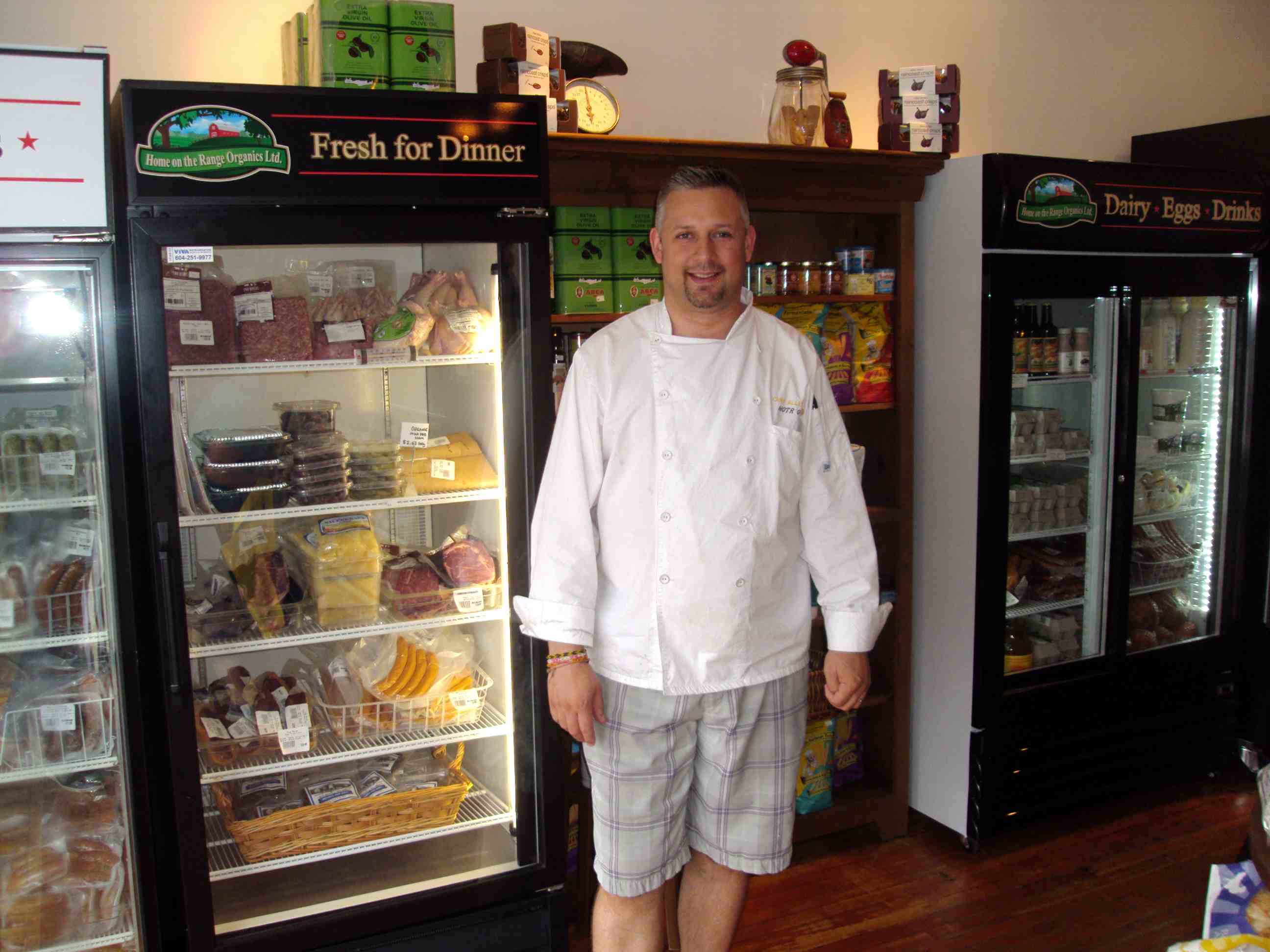 5. Wild Game
Admittedly, I don't have a ton of experience in this particular fashion of sourcing high-quality animals, but I know some people who do and I can tell they really love it. I have been fishing on a number of occasions, and caught and cleaned the fish for eating. It was a lot of fun, and the fish was great. Here's a photo of me loving my salmon catch last summer. My friend Luke (of Simbio Consulting) is the real fishing enthusiast, but his guidance lead to my success: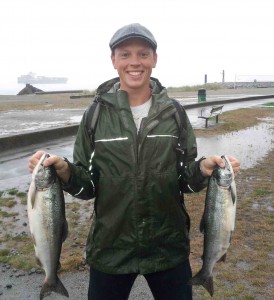 I'm also interested in trying hunting in some capacity someday. It could be exciting to track a deer or elk or something, and bring home a glorious food supply for the whole winter. Maybe some ducks? I have this as a goal for down the line that I will get to at some point. It's an intense connection to your food, and something that our ancestors would have experienced regularly. Seems pretty…primal.
There's an organization here in Vancouver called Eat Wild (not to be confused with the eatwild.com referenced above) that offers training courses in all things hunting and trapping. For me, that's a great place to start.
As a final way to get some wild game, you could barter or trade with a hunter who has plenty to spare! I have a friend who is a former vegan who now includes small amounts of wild game in her diet (for health), and this is how she sources it. She has sourced it by knowing hunters who gift her the meat (sometimes via trade), but she has also put up an ad on Craigslist looking for wild game, and got local responses from hunters and friends/family of hunters offering up all the extras they have. So, if you don't want to do the hunting yourself, there are options.
Conclusions
There are many ways to source high-quality animal products that do not support factory farming. These operations are not perfect, but they are far superior to the conventional route, and the owners of these operations are generally committed to constant improvement of both the environmental sustainability of their practice and the quality of their product.
So no more excuses! The shrink-wrapped factory raised stuff at the grocery store is not even close to your only option. Look around for these opportunities, and I guarantee you will not regret it.
Readers: Have you tried these methods? How do you source your ethically raised animal products?
G