For those who were interested in the primal/paleo approach that I outlined in my previous post, this post is intended to be an introduction to the types of meals that can be consumed on a regular basis while following this lifestyle. In the previous post, I outlined that a typical primal/paleo approach focuses on the following:
Animals (land or sea)
Eggs
Vegetables
Fruits
Nuts/seeds
Approved fats/oils
Any herb or spice
High-fat dairy in moderation, preferably fermented varieties (for those who tolerate it well)
The foods that it typically eliminates or limits includes:
Grains
Legumes
Refined sugars
Industrial seed oils (canola, soybean, corn, etc)
Dairy for those who do not tolerate it
OK, so that is 'the diet', but how does one actually practice this? It seems like toast, bagels, pasta, pizza, buns, cookies, cakes, muffins, vegetable oils and sugary beverages are unavoidable in today's society. However, these foods are nutritionally very empty and consist of large amounts of refined carbohydrates and inflammatory substances. The biggest complaint that I hear when people are attempting a transition to a more primal/paleo diet is that they are confused as to what is acceptable and are hesitant to eat anything! Hunger always wins in the end, so it's best to be ready with lots of great options in mind.
To help out anyone who is interested in improving their health through better eating habits, below are a bunch of paleo recipes and paleo meal ideas that I prepare regularly and truly enjoy. I'm leaving a lot out to keep this list reasonably short, so I'm just sharing a few of my favourites. Keep in mind, I am a 200 pound weightlifting enthusiast, so my energy and protein requirements are very high. If you are a smaller person or not as interested in building muscle, then reduce the portion size and change things up as you please. This is meant to spark some creativity in your meal choices and preparation, not be a definitive guide on what to eat. At the end of this post will be my recommendations for comprehensive primal/paleo cookbooks.
Without further ado, here are some of my go-to meals:
Primal / Paleo Meal Ideas:
Roast Chicken:
This one is a total classic for me, and is really easy once you get the hang of it. It's the most affordable way to eat chicken, and is also the most nutritious as you're going to be able to eat the skin and cartilage as well as sucking the marrow out of the bones (trust me, it's great stuff).
Ingredients:
One whole chicken (preferably free-range/organic, or at least hormone and antibiotic free)
Cooking fat (butter is best here, but any cooking fat will work… try bacon fat!)
1 lemon/onion/apple for stuffing into the chicken
Herbs (rosemary rocks here, as does sage)
Garlic powder
Sea salt
Preheat oven to 450 F. Make sure the bird is completely thawed out, and then rub sea salt all over the skin. Next, take a lemon/onion/apple and chop it up and insert into the bird cavity. While cooking, the stuffing ingredients will release moisture into the meat to keep it super tender.
Melt butter in a small pot. Add herbs to the melted butter. Coat the stuffed bird liberally in the butter/herb mixture. Sprinkle garlic powder all over the buttery bird.
Once the oven is at 450 F, insert the buttery stuffed bird. Roast at 450 F for 30 minutes, then reduce heat to 375 F for another hour. Do not baste. Take it out, let it rest for about 10 minutes, and then carve. You can use the stuffing as a side dish (if it's lemon, squirt the hot lemon juice all over the chicken).
There are many other ways to roast a chicken, but this is a very foolproof way, and requires very little prep work. I've roasted literally hundreds of chickens this way, and they always turn out great.
Side dishes – roasted sweet potato, steamed veggies, salad, whatever.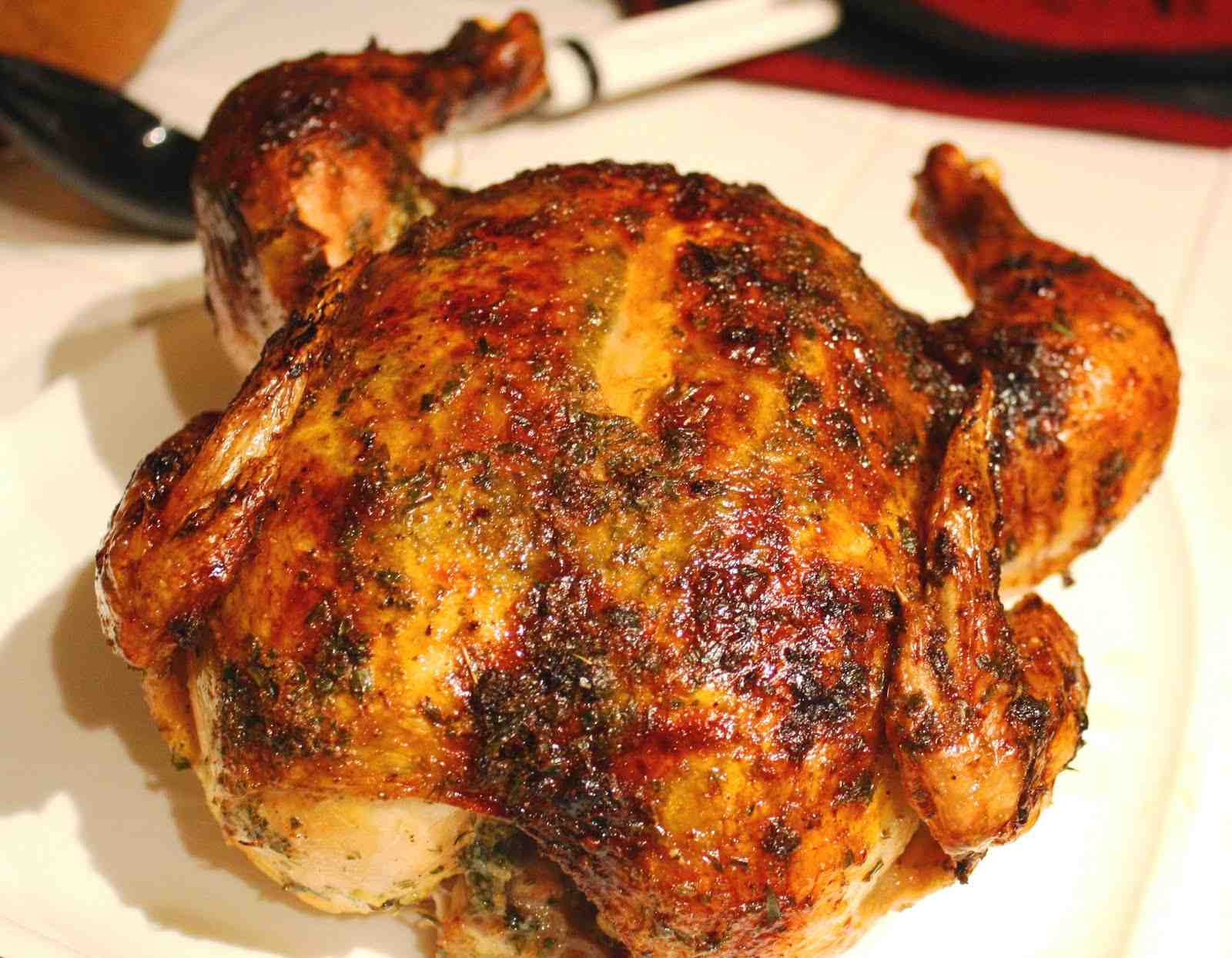 Here's another way to roast a chicken: BBQ Beer-Can Chickens. (Not that I recommend a ton of beer in your diet…).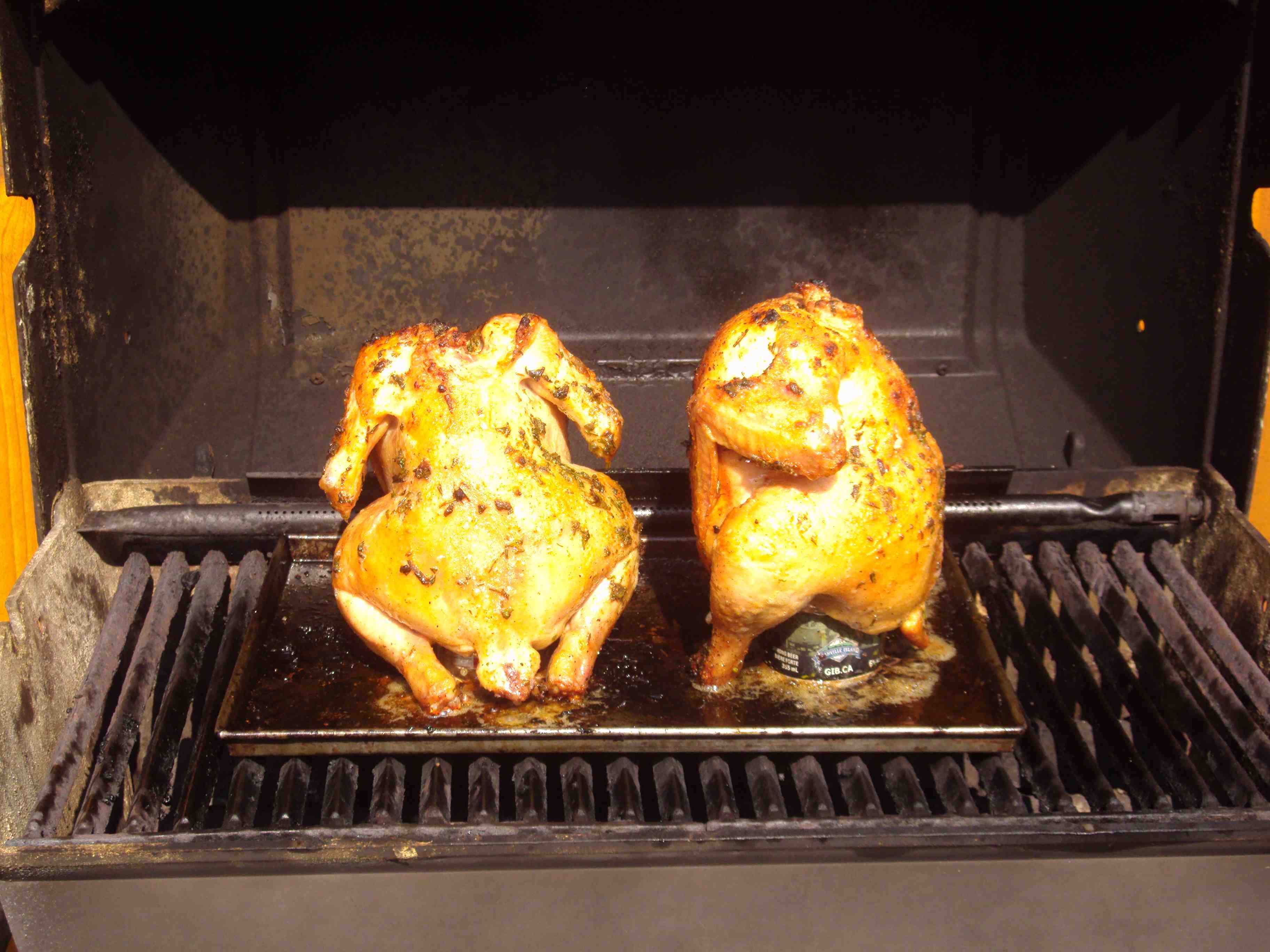 Ground Meat Stir-Fry:
This is one of my go-to paleo meal ideas. I buy my meat from a butcher that specializes in naturally raised animals that are hormone and antibiotic free, so the prices are higher than what you'd get in a chain grocery store. Ground meats are always cheaper than whole cuts, so I've played around with different ways to use them. I always come back to variations on the below recipe since it's fast, easy, and really nutritious. Check it out:
Ingredients:
Ground meat of some type (beef or pork usually, sometimes lamb)
Cooking fat (butter, coconut oil, ghee, lard)
Veggies galore (broccoli, onions, peppers, cauliflower, anything!)
Garlic
Herbs
Salt and Pepper
Hot sauce or mustard as a topping/sauce
Sometimes, sweet potatoes/mashed potatoes on the side, or squash.
Heat a good cooking fat until it's melted and then add the ground meat. Cook until mostly browned, but do not drain the liquid. Add all your chopped veggies and stir until they are cooked to your desired tenderness (I like them to remain a bit firm). Add garlic and herbs and salt and pepper to taste. Top with a non-sugary sauce of your choice (note my above suggestions of a hot sauce, or mustard).
Here is a shot of a ground pork stir fry I made a while back. Remember – it could be any ground meat. I think I put some olive oil and balsamic vinegar on top.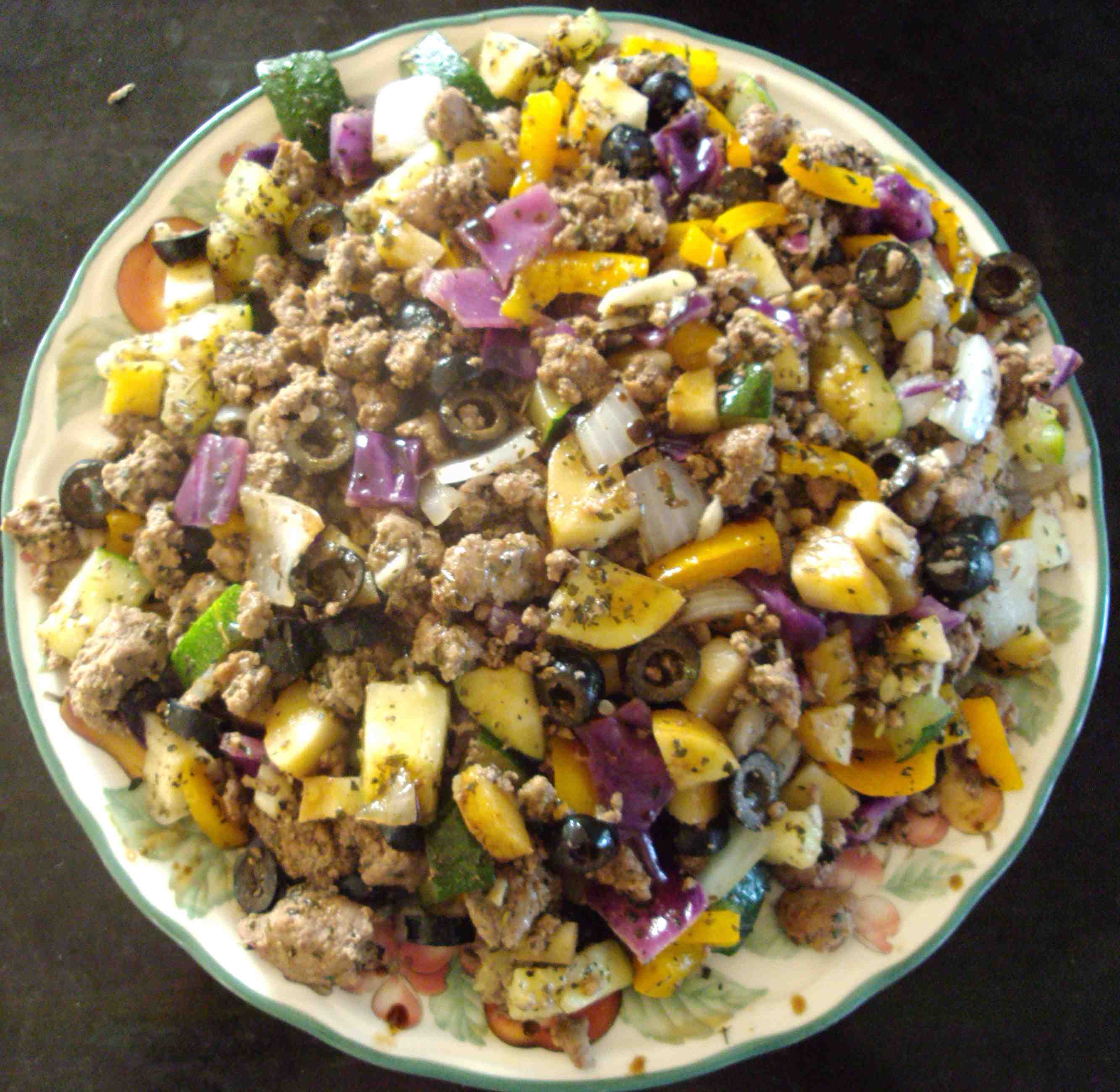 Lunch Salad:
Ingredients:
Hardboiled eggs
Canned salmon/tuna
Lettuce/peppers/onions/tomatoes/carrots/any salad vegetable you want
Cheese
Olive oil
Avocado also goes well
Balsamic vinegar / any vinegar or acid that you want
A very versatile paleo meal idea, this is one I make a lot during the summer when local produce is fresh and tasty. Very basically, I hard boil a whole bunch of eggs (usually ahead of time, but not always) and combine them with a can of salmon or tuna on top of a whole bunch of salad veggies. I then top it liberally with olive oil and balsamic vinegar. I'll throw some chopped up cheddar cheese in there too since I tolerate fermented dairy well and find it delicious. Takes about 5 minutes to make if you have the eggs hardboiled ahead of time, and about 15 minutes if you need to hard boil the eggs first.
This is a filling meal and provides a huge amount of valuable nutrients with essentially no refined carbohydrates. You'll cruise off this all afternoon with steady energy. Here's a shot of a lunch salad I brought to work last summer: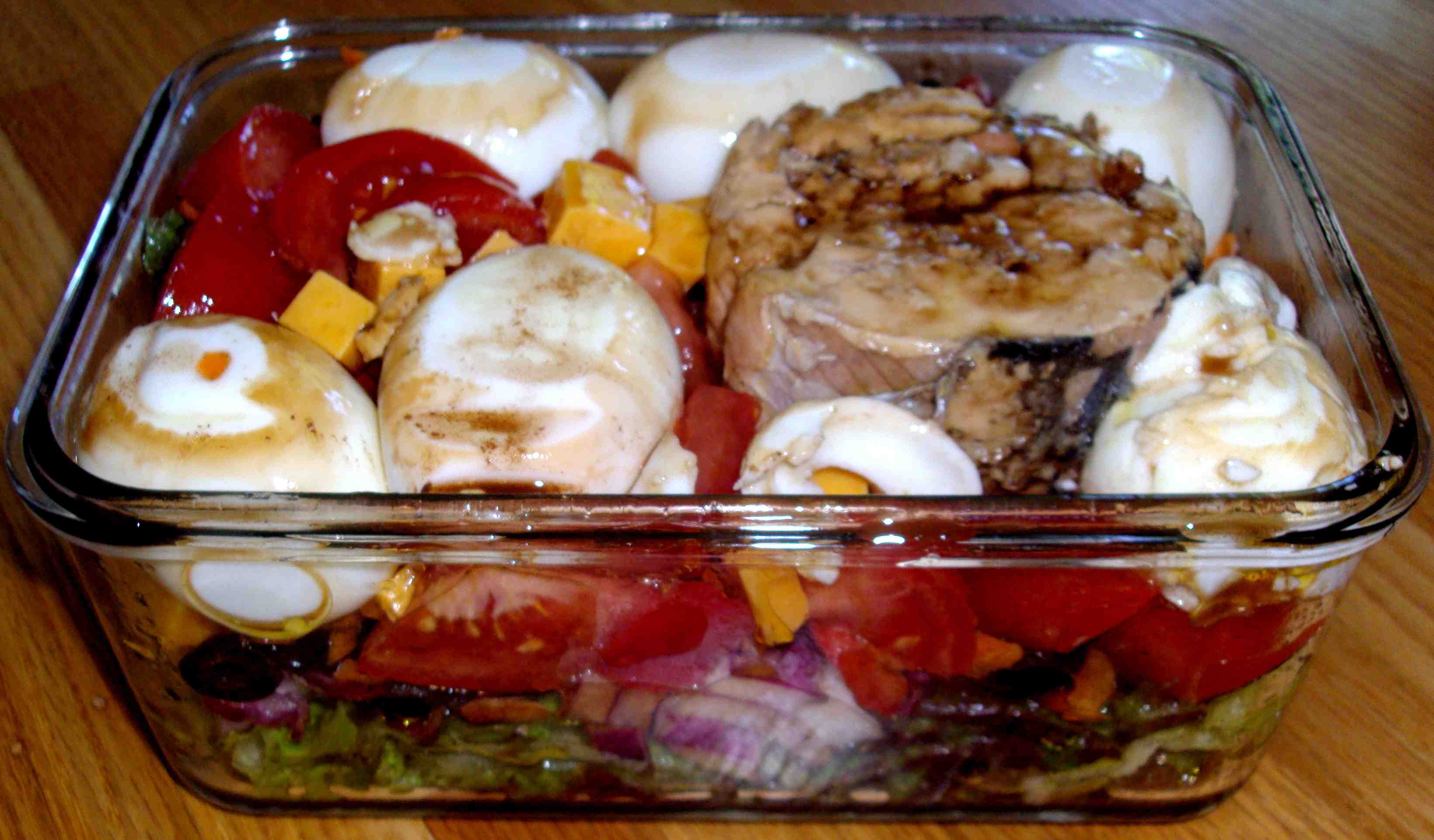 Coconut Milk Protein Smoothie:
Great as a breakfast, snack, dessert, or post-workout shake. Play around with the recipe as you like, but I generally go for:
Ingredients:
Half a cup of coconut milk or cream (sometimes more, sometimes less)
1 scoop chocolate protein powder (whey isolate is best)
1 raw egg (do not fear this, it's good)
Frozen berries (blueberries are best, more makes it thicker and colder)
Few drops of vanilla extract
Few dashes of cinnamon
Few hunks of raw ginger
A bit more coconut milk/cream
Blend it all up and add water as necessary to make it happen. Here's a shot of the finale: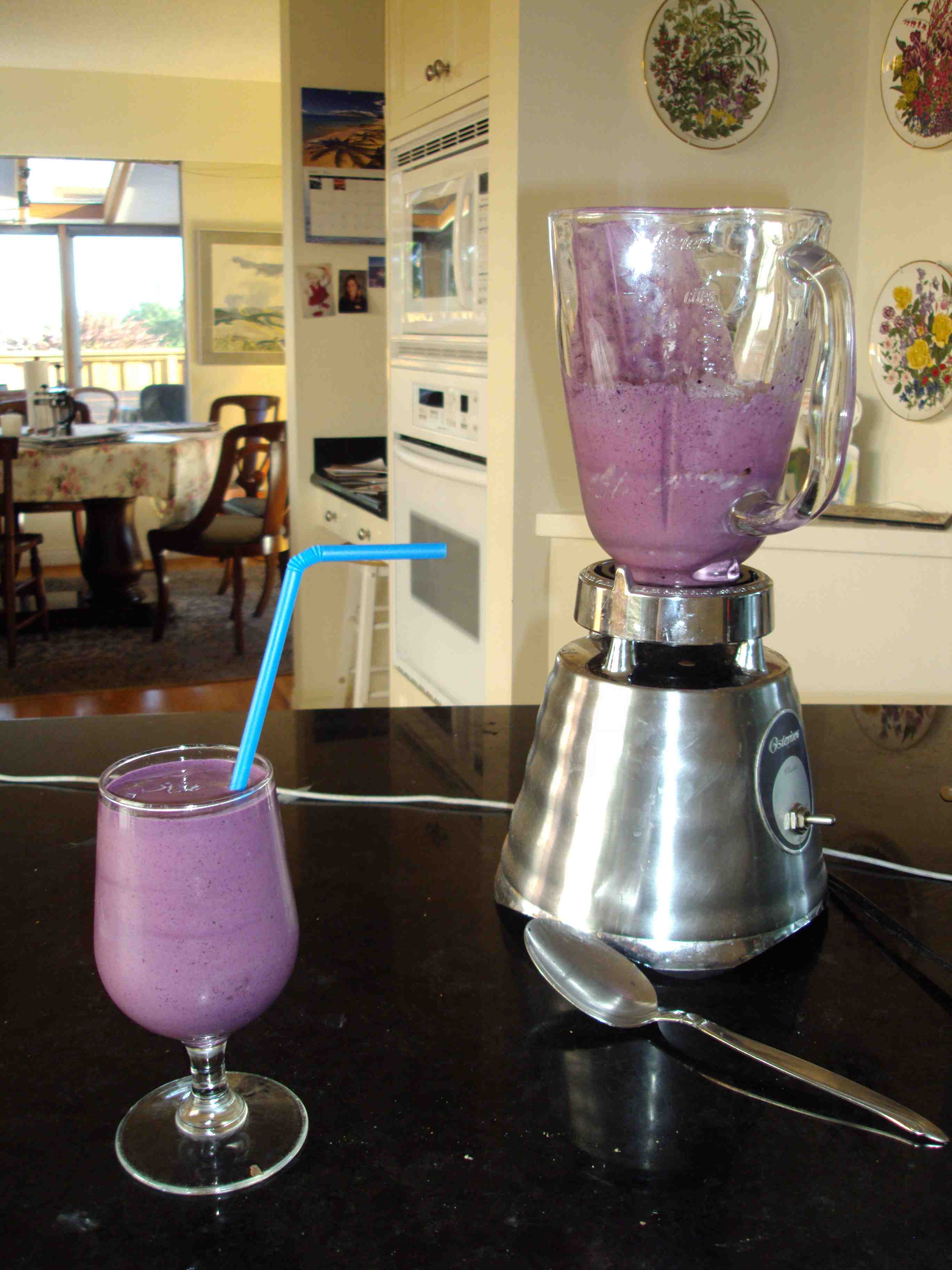 You could also just mix it up in a bowl like so: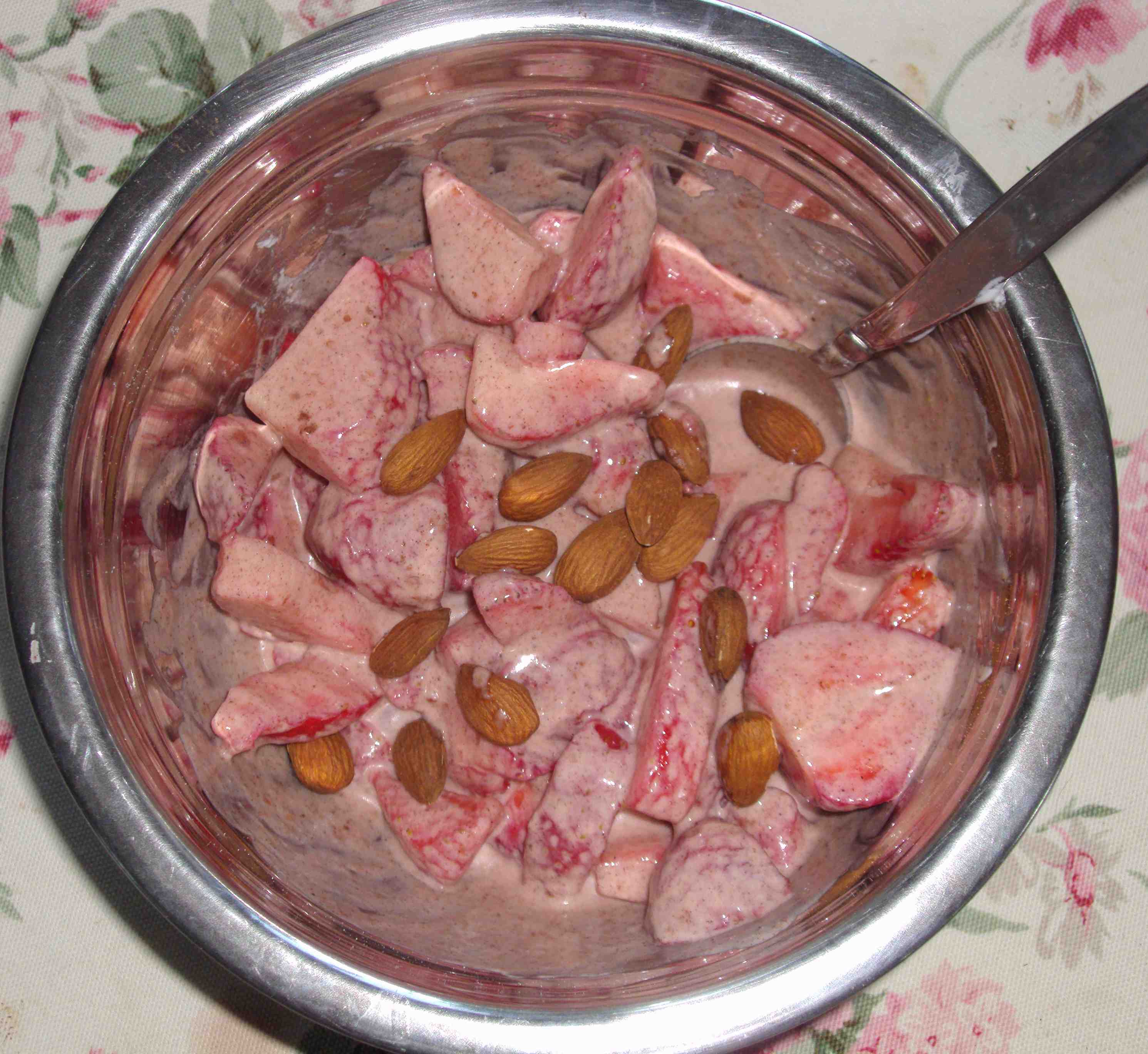 Bacon and Eggs Extraordinaire:
I typically make this for a big brunch meal somewhere around late morning.
Ingredients:
Bacon
Eggs
Veggies
Hot sauce / salsa
Optional: cheese, avocado
Fry up the bacon and keep all the grease. Sautee chopped veggies in the grease (add more butter if you have to), until they cook to desired tenderness. Add whole eggs and let them cook untouched for a minute. Then scramble it all up. Keep stirring until the eggs look mostly cooked, but still fairly wet. If you want cheese, toss it in towards the end. Top with chopped avocado or guacamole if you want.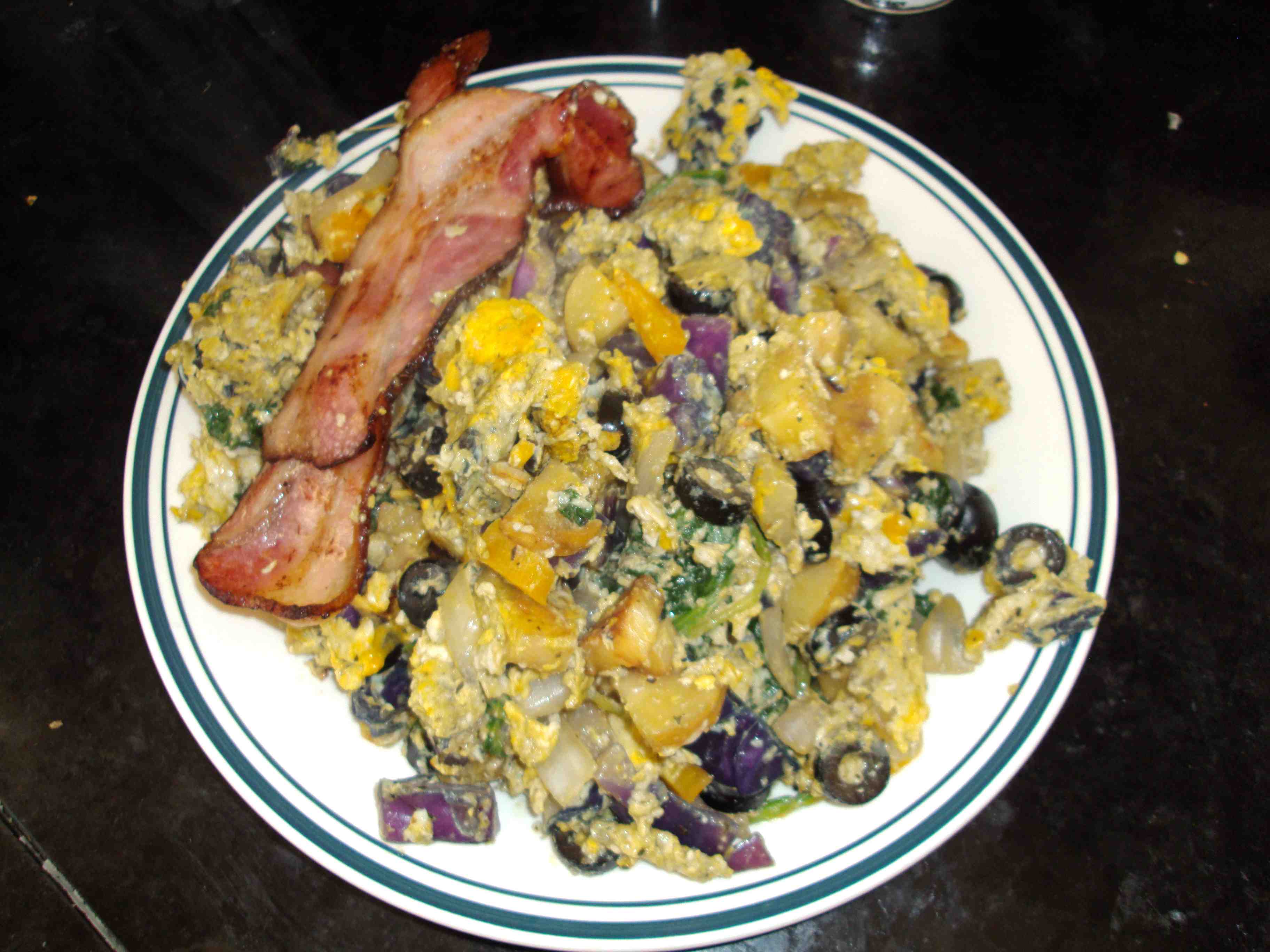 Bunch of Veggies With Meat:
This is exactly what it sounds like. Any vegetables combined with any meat in any number of ways. Here's a few examples:
Steak and Veggies: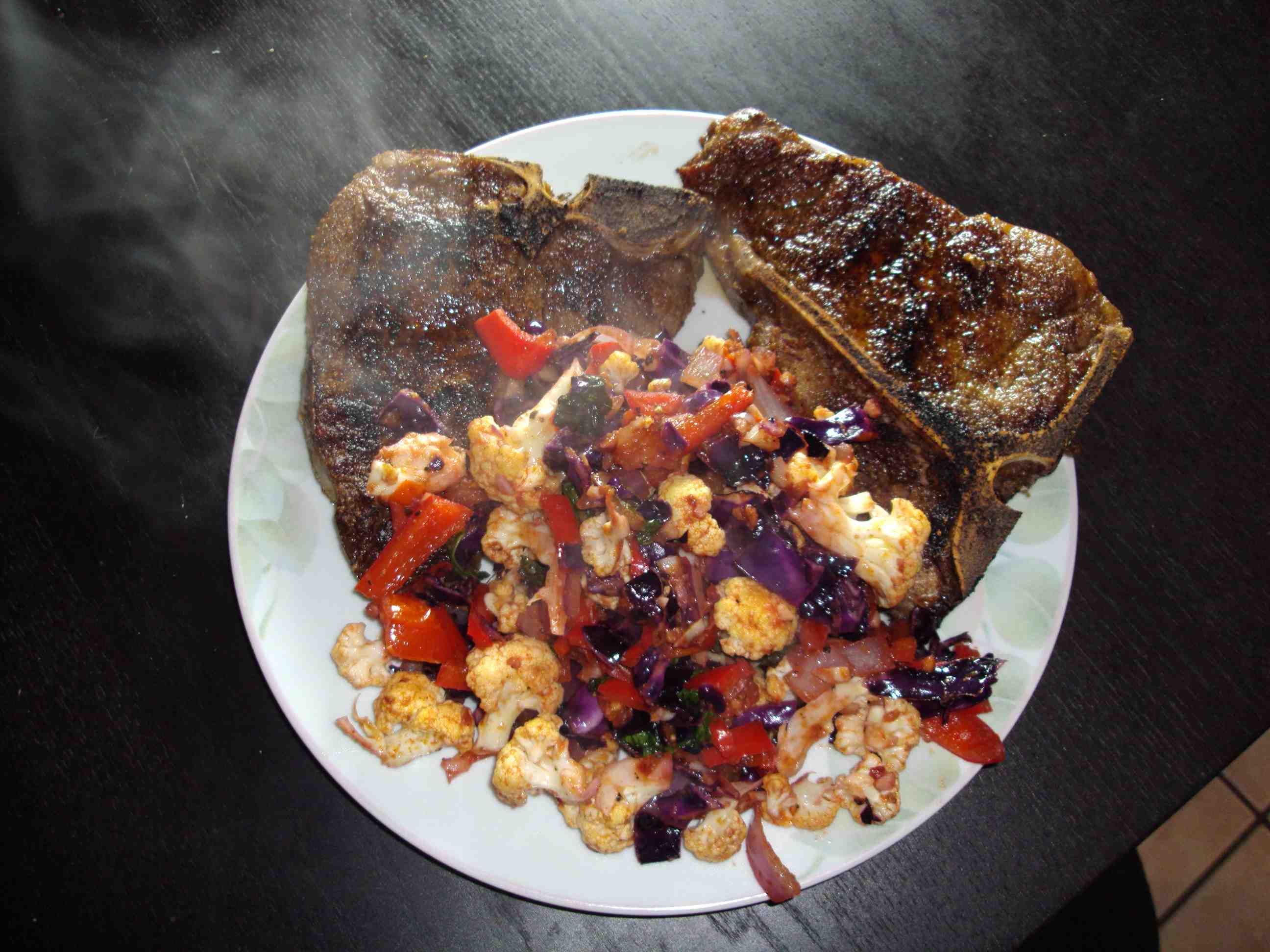 Leftover Chicken Salad: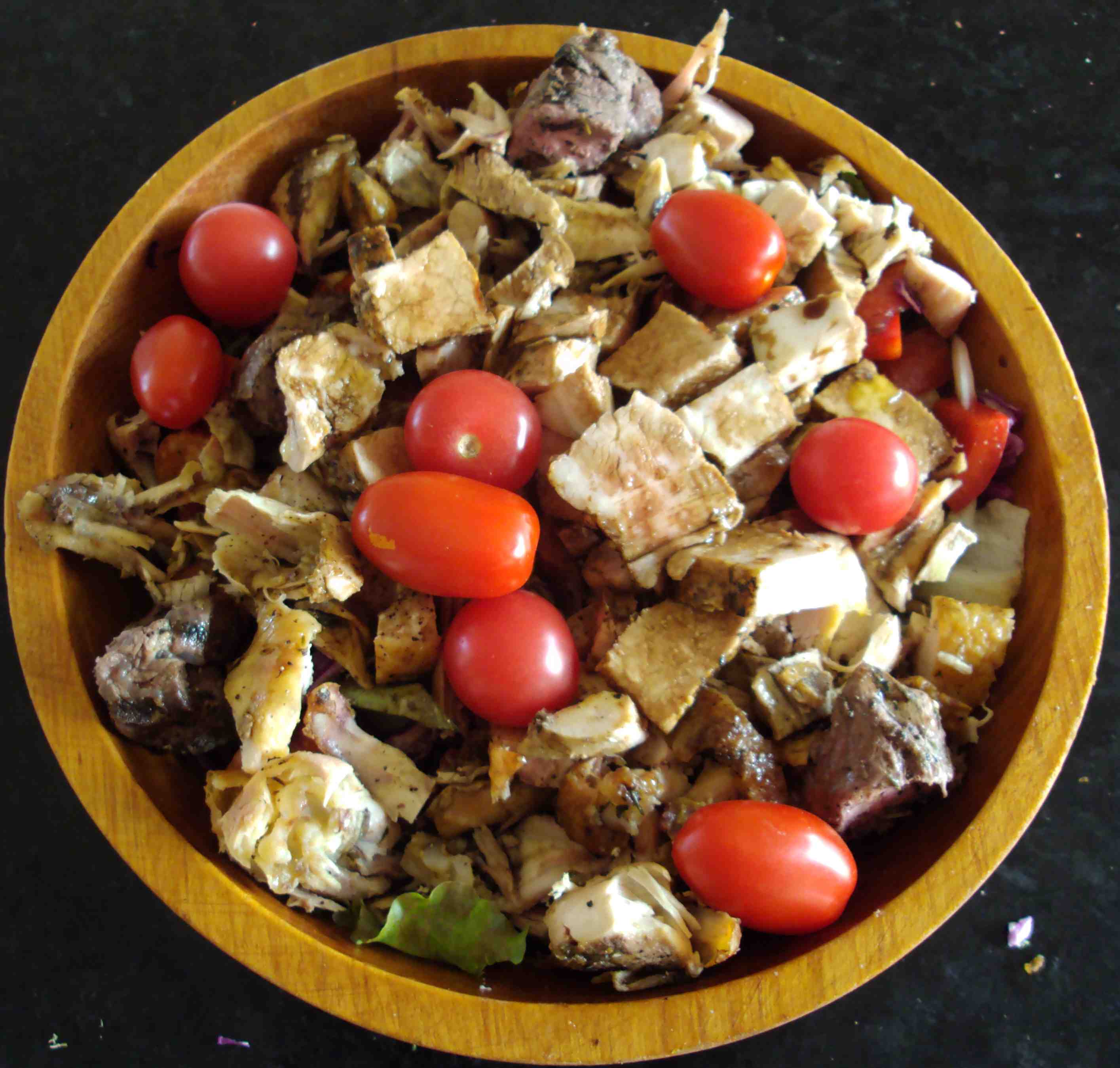 Roast Pork with Roast Brussels Sprouts and Root Vegetables: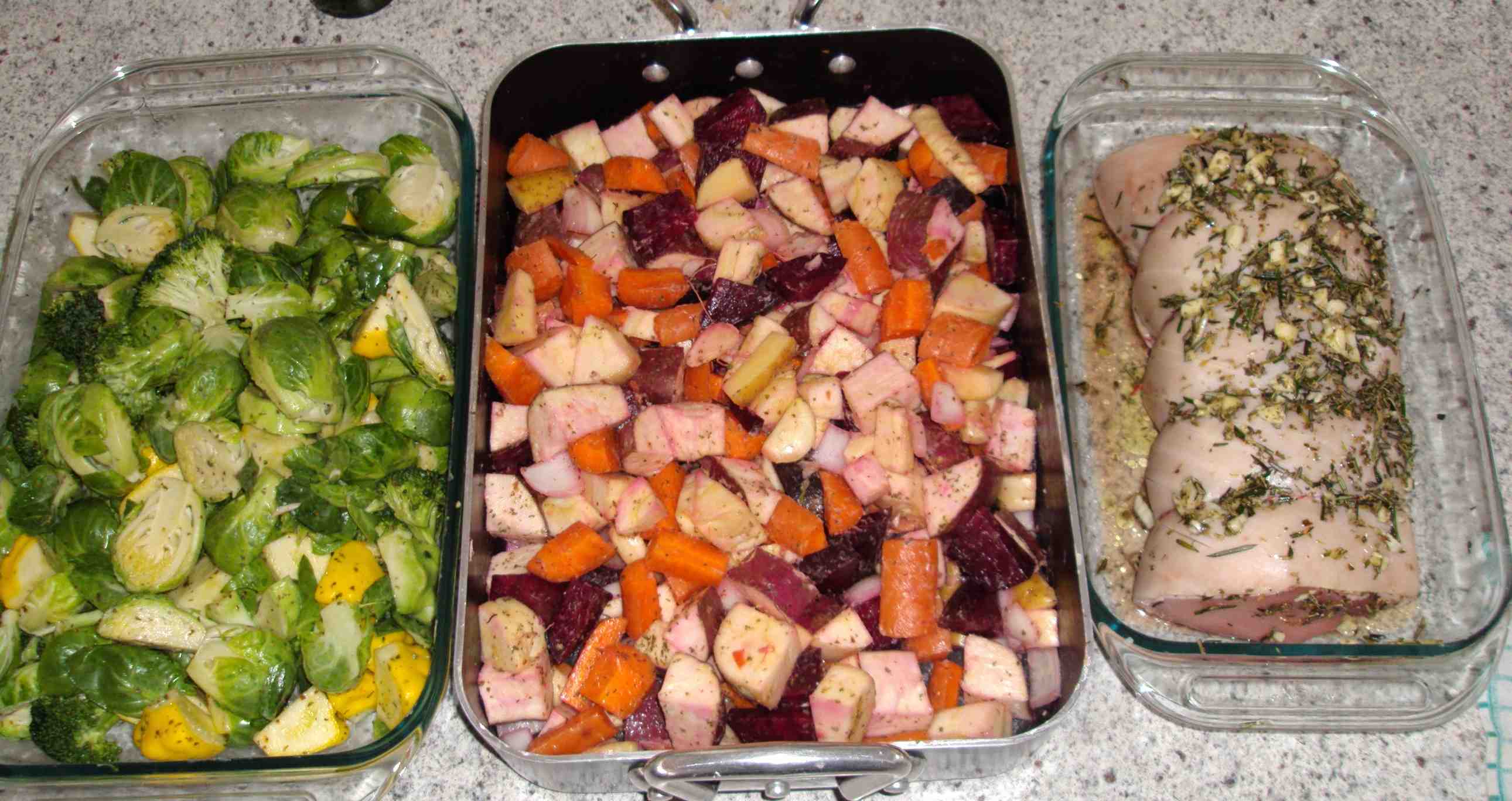 Sausages with a Salad: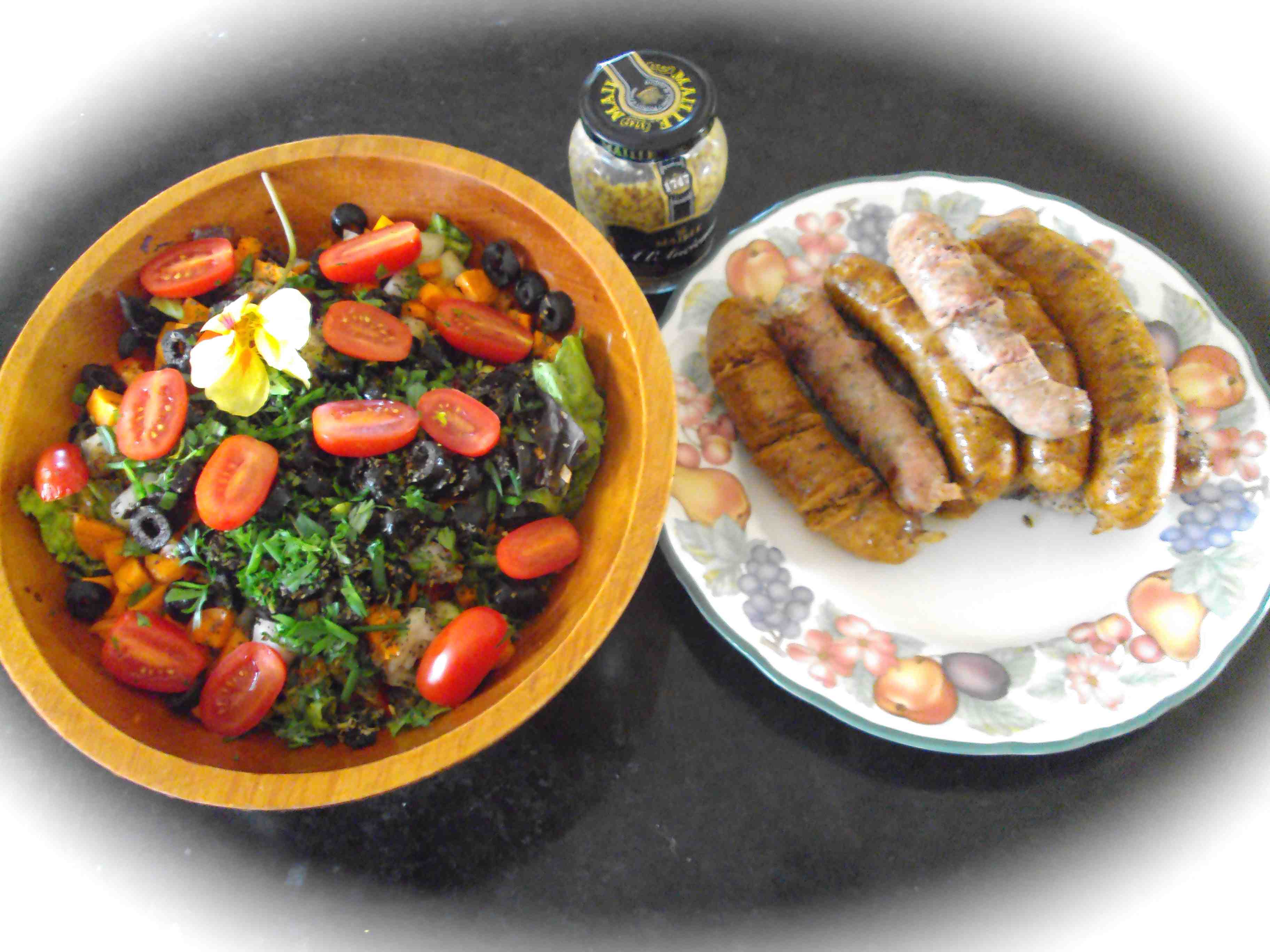 Conclusion: Get Creative!
Again, these are just a selection of my usual go-to meals for the primal-inclined. There's a lot that I eat fairly regularly that I haven't shown here, but I am just trying to illustrate the basic types of meals that a primal/paleo follower might prepare (this post is already big enough). I also encourage you to explore possibilities with the less popular parts of the animal such as organs and bones. These are the most nutritious and cheapest parts. They just don't always make for lovely photos.
The possibilities are endless, so get creative! For a more thorough collection of recipes, here are my cookbook recommendations:
For Americans:
For Canadians:
What are you favourite primal/paleo meal ideas? Please respond in the comments section!
Thanks for reading. Hope you're hungry!
G